Contact Us For Academic mAb Advantage Pricing
Data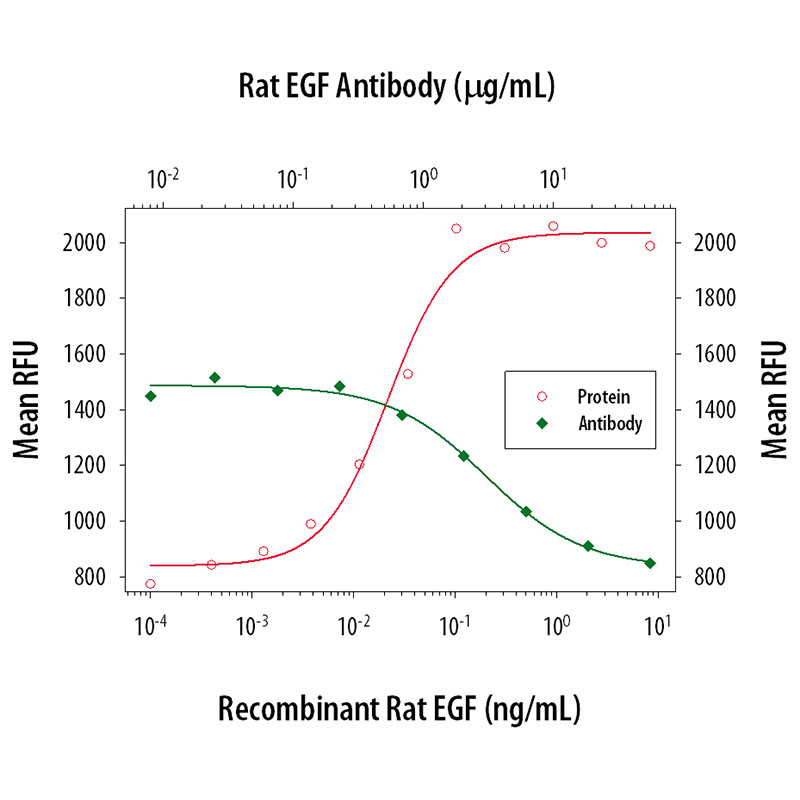 Antibody Details
Product Details
Immunogen
Purified Recombinant Rat EGF (>98%)
Endotoxin Level
<0.1 EU/µg as determined by the LAL method
Formulation
This monoclonal antibody has been 0.2 µm filtered and lyophilized from modified Dulbecco's phosphate buffered saline (1X PBS) pH 7.2 - 7.3 containing 5.0% w/v trehalose with no calcium, magnesium or preservatives present.
Storage and Handling
The lyophilized antibody can be stored desiccated at -20°C to -70°C for up to twelve months. The reconstituted antibody can be stored for at least four weeks at 2-8°C. For long-term storage of the reconstituted antibody, aseptically aliquot into working volumes and store at -20°C to -70°C in a manual defrost freezer. Avoid repeated freeze thaw cycles. No detectable loss of activity was observed after six months.
Applications and Recommended Usage?
Quality Tested by Leinco
Western Blotting:
To detect Rat EGF this monoclonal antibody can be used at a concentration of 1-2 µg/ml. This monoclonal antibody should be used in conjunction with compatible second-step reagents such as
PN:M114
and a chromogenic substrate such as
PN:T343
. The detection limit for Rat EGF is 25 and 1 ng/lane under either reducing or non-reducing conditions. The sensitivity of detection may increase up to 50 fold when a chemiluminescent substrate is used. A suitable Western blotting control is
PN:E188
.
Other Applications Reported In Literature ?
Neutralization: This antibody is useful for neutralization of Rat EGF bioactivity. The antibody dose required to neutralize 50% (ND50) of the biological activity of Rat EGF (at 75 ng/ml) is 0.75-3.75 µg/ml.
Each investigator should determine their own optimal working dilution for specific applications. See directions on lot specific datasheets, as information may periodically change.
Description
Specificity
Mouse Anti-Rat Epidermal Growth Factor (EGF) (Clone 420610) recognizes an epitope on Rat EGF. This monoclonal antibody was purified using multi-step affinity chromatography methods such as Protein A or G depending on the species and isotype.
Antigen Details
Technical Protocols
Related Products
Formats Available