Bulk quantities available. Contact us for pricing.
Data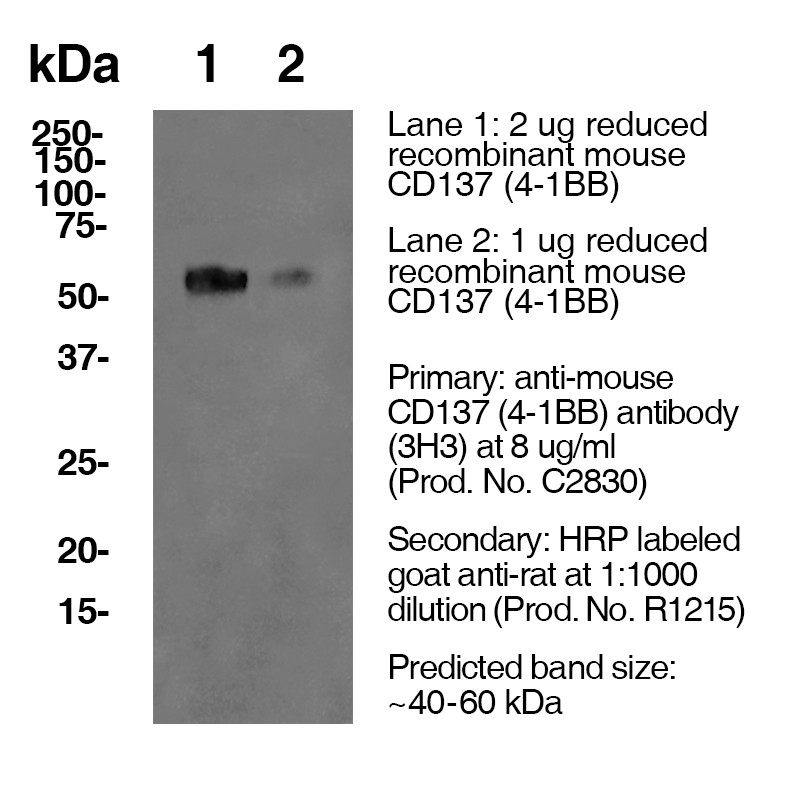 Antibody Details
Product Details
Immunogen
Recombinant Mouse CD137 human Fc fusion protein
Endotoxin Level
< 1.0 EU/mg as determined by the LAL method
Purity
≥95% monomer by analytical SEC
Formulation
This monoclonal antibody is aseptically packaged and formulated in 0.01 M phosphate buffered saline (150 mM NaCl) PBS pH 7.2 - 7.4 with no carrier protein, potassium, calcium or preservatives added. Due to inherent biochemical properties of antibodies, certain products may be prone to precipitation over time. Precipitation may be removed by aseptic centrifugation and/or filtration.
Product Preparation
Functional grade preclinical antibodies are manufactured in an animal free facility using only In vitro protein free cell culture techniques and are purified by a multi-step process including the use of protein A or G to assure extremely low levels of endotoxins, leachable protein A or aggregates.
Storage and Handling
Functional grade preclinical antibodies may be stored sterile as received at 2-8°C for up to one month. For longer term storage, aseptically aliquot in working volumes without diluting and store at -80°C. Avoid Repeated Freeze Thaw Cycles.
Applications and Recommended Usage?
Quality Tested by Leinco
WB
ELISA
Other Applications Reported In Literature ?
in vivo 4-1BB stimulation
in vitro 4-1BB stimulation
Each investigator should determine their own optimal working dilution for specific applications. See directions on lot specific datasheets, as information may periodically change.
Description
Specificity
Clone 3H3 recognizes an epitope on mouse 4-1BB.
Antigen Distribution
4-1BB is expressed on activated B cells and T cells, macrophages, and dendritic cells.
Background
4-1BB (CD137) is a 39 kD transmembrane protein that is a member of the tumor necrosis factor (TNF) receptor family and is a co-stimulatory molecule that plays a role in T-cell-mediated proliferative response. When binding its ligand, CD137 provides costimulatory signals to both CD4 and CD8 T cells via the activation of NF-B, c-Jun and p38 downstream pathways. Crosslinking of CD137 boosts T cell proliferation, IL-2 secretion, survival and cytolytic activity. Furthermore, it can increase immune activity to eliminate tumors in mice. Agonistic anti-CD137 antibodies have been reported to stimulate a more intense immune system attack on cancers.
Antigen Details
Ligand/Receptor
4-1BB (CDw137)
References & Citations
1. Shan B et al. (2008) Cell Mol Immunol. 5: 379
2. Kwan BS et al. (1996) Cell Immunol. 169: 91
3. Kwan BS et al. (1998) Eur J Immunol. 28: 881
4. Kwan BS et al. (2009) J Immunol. 182: 4107

Technical Protocols
Related Products