Pricing & Details
Product Type

Monoclonal Antibody

Alternate Names

MGC138290, Tp44
Data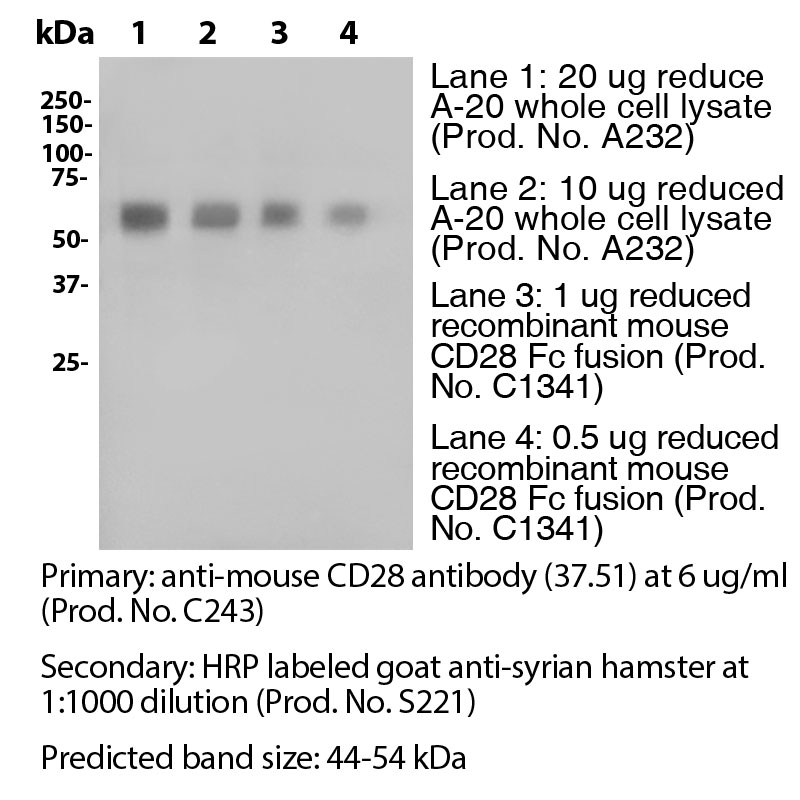 Antibody Details
Formulation
This purified antibody is formulated in 0.01 M phosphate buffered saline (PBS) pH 7.4, 150 mM NaCl, 1% BSA and 0.09% sodium azide as a preservative.
Storage and Handling
This antibody is stable for at least one week when stored at 2-8°C. For long term storage, aliquot in working volumes without diluting and store at -20°C in a manual defrost freezer. Avoid Repeated Freeze Thaw Cycles.
Applications and Recommended Usage ?
(Quality Tested by Leinco)
FC The suggested concentration for this 37.51 antibody for staining cells in flow cytometry is ≤ 1.0 μg per 106 cells in a volume of 100 μl. Titration of the reagent is recommended for optimal performance for each application.
Applications and Recommended Usage ?
(Quality Tested by Leinco)
Other Applications Reported In Literature ?
IHC (Frozen)
B
Cosim
IP

Each investigator should determine their own optimal working dilution for specific applications.
Description
Specificity
Clone 37.51 recognizes an epitope on mouse CD28.
Antigen Distribution
CD28 is expressed on thymocytes, CD4+, CD8+ peripheral T cells, NK cells.
Background
CD28 is a 44 kD glycoprotein and a member of the Ig superfamily. In its capacity as a costimulatory receptor, CD28 produces co-stimulatory signals necessary for T cell activation and survival. CD28 is the only B7 receptor constitutively expressed on naive T cells. Without having this CD28/B7 interaction, T cells will fail to respond to their specific antigen when coming in contact with an MHC/antigen complex and thus, are said to be anergic.
Antigen Details
Ligand/Receptor
CD80 (B7-1), CD86 (B7-2)
References & Citations
Gross, J. A. et al. (1992) J. Immunol. 149:380
Technical Protocols
Related Products
Formats Available