Contact Us For Academic mAb Advantage Pricing
Data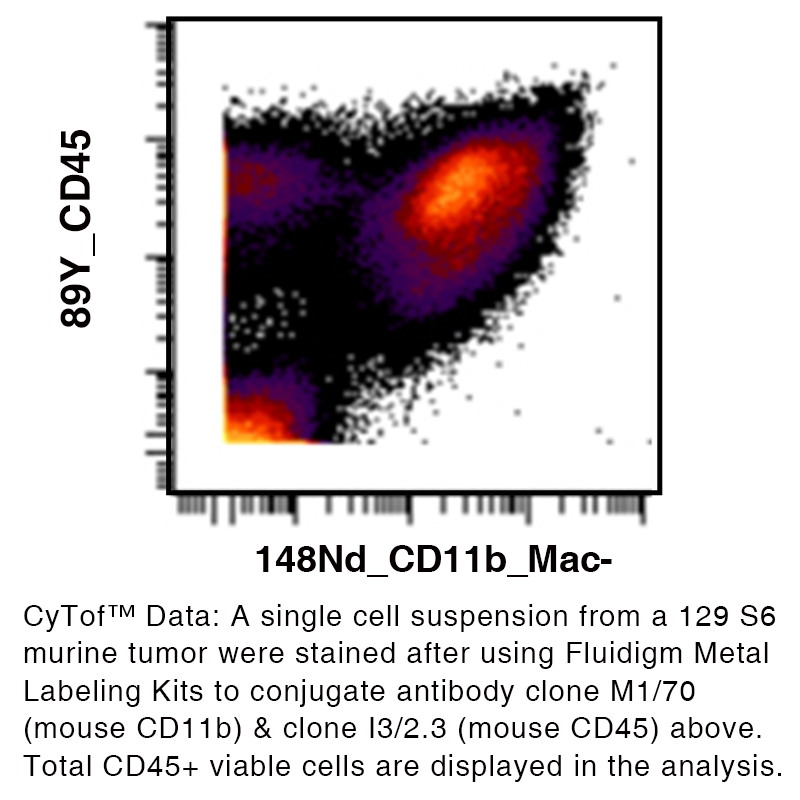 Antibody Details
Product Details
Immunogen
Mouse lymphoma cell line
Endotoxin Level
< 1.0 EU/mg as determined by the LAL method
Purity
≥95% monomer by analytical SEC
Formulation
This monoclonal antibody is aseptically packaged and formulated in 0.01 M phosphate buffered saline (150 mM NaCl) PBS pH 7.2 - 7.4 with no carrier protein, potassium, calcium or preservatives added. Due to inherent biochemical properties of antibodies, certain products may be prone to precipitation over time. Precipitation may be removed by aseptic centrifugation and/or filtration.
Product Preparation
Functional grade preclinical antibodies are manufactured in an animal free facility using only In vitro protein free cell culture techniques and are purified by a multi-step process including the use of protein A or G to assure extremely low levels of endotoxins, leachable protein A or aggregates.
Storage and Handling
Functional grade preclinical antibodies may be stored sterile as received at 2-8°C for up to one month. For longer term storage, aseptically aliquot in working volumes without diluting and store at -80°C. Avoid Repeated Freeze Thaw Cycles.
Applications and Recommended Usage?
Quality Tested by Leinco
FC The suggested concentration for this I3/2.3 antibody for staining cells in flow cytometry is ≤ 0.125 μg per 106 cells in a volume of 100 μl. Titration of the reagent is recommended for optimal performance for each application.
WB The suggested concentration for this I3/2.3 antibody for use in western blotting is 1-10 μg/ml.
Other Applications Reported In Literature ?
IHC (Frozen)
IHC (Paraffin)

Each investigator should determine their own optimal working dilution for specific applications. See directions on lot specific datasheets, as information may periodically change.
Description
Specificity
Clone I3/2.3 recognizes an epitope on mouse CD45.
Antigen Distribution
CD45 is expressed on all hematopoietic cells other than mature erythrocytes and platelets.
Background
CD45 is a 180-240kD glycoprotein member of the protein tyrosine phosphatase (PTP) family known for its involvement in regulating a variety of cellular processes including cell growth, differentiation, mitotic cycle, and oncogenic transformation. CD45 and its isoforms are vital regulators of T- and B-cell antigen receptor signaling. CD45 functions through its extracellular domain or through its cytoplasmic domain, and serves as a negative regulator of cytokine receptor signaling via JAK kinase supression. The large extracellular domain is highly glycosylated, and its multiple isoforms allow extensive variation in the structure of its side chains. CD45 isoforms show cell-type and differentiation-stage specific expression that can be used as markers that identify and distinguish between different types of immune cells. CD45R is an isoform of CD45 with a molecular weight of 220 kD. CD45R contains all three possible exons (A, B, and C); making it the longest protein generated from alternative splicing with a migration at 200 kD when isolated from T cells. Furthermore, B cells express CD45R with heavier glycosylation, bringing the molecular weight to 220 kD, hence the name B220. Notably, B220 expression is not only restricted to B cells and may also be expressed on activated T cells, on a subset of dendritic cells, and on other antigen-presenting cells. Additionally, activated and memory T lymphocytes express CD45RO which facilitates T cell activation. CD45RO lacks all three possible exons (A, B, and C), making it the shortest CD45 isoform.
Antigen Details
Ligand/Receptor
Galectin-1, CD2, CD3, CD4, TCR, CD22, Thy-1
Function
Phosphatase, T and B cell activation
Research Area
Neuroscience Cell Markers
Technical Protocols
Related Products
Formats Available