Bulk quantities available. Contact us for pricing.
Data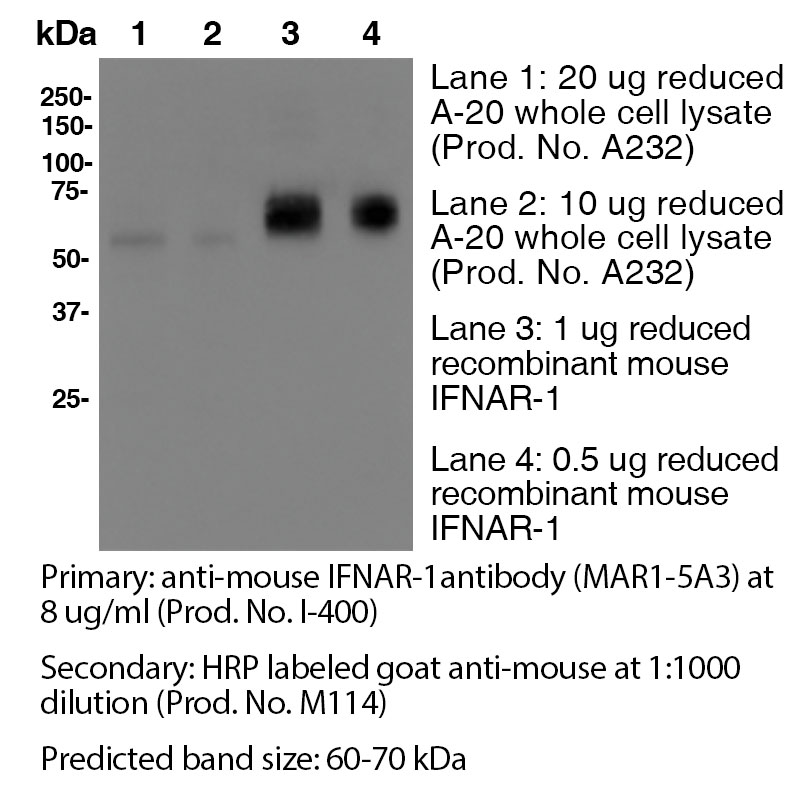 Antibody Details
Product Details
Immunogen
This antibody was produced by In vivo genetic immunization of IFNAR1 knockout mice with a plasmid encoding the extracellular domain of murine IFNAR1.
Formulation
This purified antibody is formulated in 0.01 M phosphate buffered saline (150 mM NaCl) PBS pH 7.4, 1% BSA and 0.09% sodium azide as a preservative.
Storage and Handling
This purified antibody is stable when stored at 2-8°C. Do not freeze.
Applications and Recommended Usage?
Quality Tested by Leinco
FC The suggested concentration for clone MAR1-5A3 antibody for staining cells in flow cytometry is ≤ 2.0 μg per 106 cells in a volume of 100 μl or 100μl of whole blood. Titration of the reagent is recommended for optimal performance for each application.
Other Applications Reported In Literature ?
WB
IP
B
ELISA
Each investigator should determine their own optimal working dilution for specific applications. See directions on lot specific datasheets, as information may periodically change.
Description
Specificity
Clone MAR1-5A3 recognizes an epitope on mouse IFNAR1.
Antigen Distribution
IFNAR1 and IFNAR2 are coexpressed on nearly all cells.
Background
IFNAR1 is a type I membrane protein, that in conjunction with IFNAR2, makes up the heterodimeric receptor that binds all type I IFNs, which includes IFN α and β. Binding and activation of the receptor stimulates Janus protein kinases, which leads to the phosphorylation of several other proteins, namely STAT1 and STAT2. IFNAR1 has also been shown to interact with PRMT1 and Tyrosine kinase 2. Type I IFNs are a family of cytokines that have been shown to promote anti-viral, anti-microbial, anti-tumor and autoimmune responses In vivo.
Antigen Details
References & Citations
1. Sheehan, K. C. F. et al. (2006) JICR 26(11):804
2. Dunn, G. P. et al. (2005) Nat. Immunol. 6(7):722
3. Fenner, J. E. et al. (2006) Nat. Immunol. 7(1):33
Technical Protocols
Formats Available