Bulk quantities available. Contact us for pricing.
Data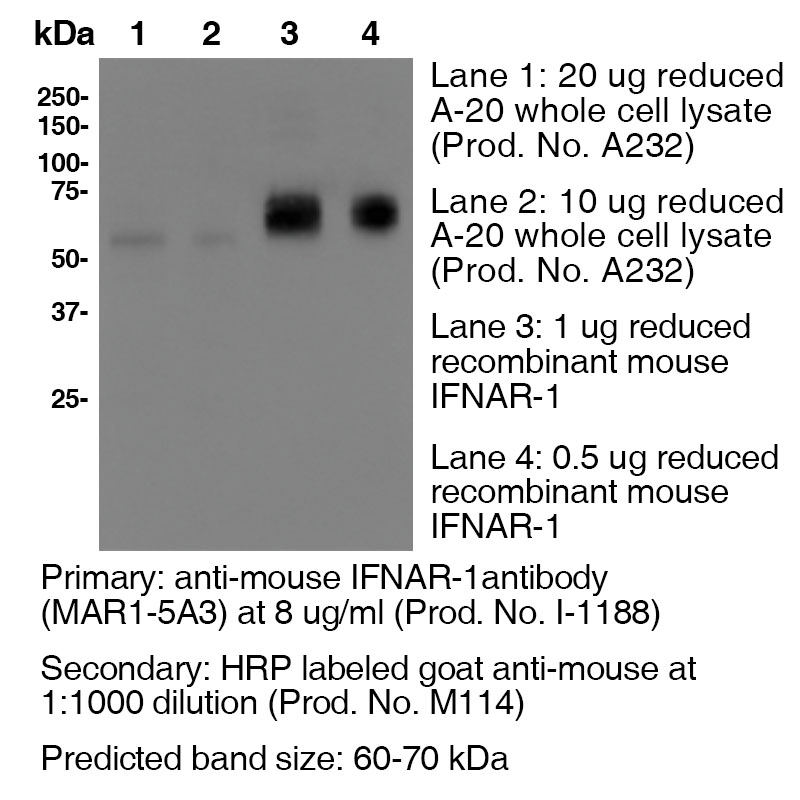 Antibody Details
Product Details
Immunogen
Plasmid DNA encoding murine IFNAR1 extracellular domain
Endotoxin Level
<0.5 EU/mg as determined by the LAL method
Purity
≥98% monomer by analytical SEC
Formulation
This monoclonal antibody is aseptically packaged and formulated in 0.01 M phosphate buffered saline (150 mM NaCl) PBS pH 7.2 - 7.4 with no carrier protein, potassium, calcium or preservatives added. Due to inherent biochemical properties of antibodies, certain products may be prone to precipitation over time. Precipitation may be removed by aseptic centrifugation and/or filtration.
Product Preparation
Functional grade preclinical antibodies are manufactured in an animal free facility using only In vitro protein free cell culture techniques and are purified by a multi-step process including the use of protein A or G to assure extremely low levels of endotoxins, leachable protein A or aggregates.
Pathogen Testing
To protect mouse colonies from infection by pathogens and to assure that experimental preclinical data is not affected by such pathogens, all of Leinco's Purified Functional PLATINUM™ antibodies are tested and guaranteed to be negative for all pathogens in the IDEXX IMPACT I Mouse Profile.
Storage and Handling
Functional grade preclinical antibodies may be stored sterile as received at 2-8°C for up to one month. For longer term storage, aseptically aliquot in working volumes without diluting and store at -80°C. Avoid Repeated Freeze Thaw Cycles.
Applications and Recommended Usage?
Quality Tested by Leinco
FC The suggested concentration for clone MAR1-5A3 antibody for staining cells in flow cytometry is ≤ 2.0 μg per 106 cells in a volume of 100 μl or 100μl of whole blood. Titration of the reagent is recommended for optimal performance for each application.
Other Applications Reported In Literature ?
B Clone MAR1-5A3 has a short half-life due to the rapid recycling of cells that express the IFNAR1 receptor. In order to block function In vivo, continual blocking of all compartments is necessary. Therefore, a large loading dose is necessary to saturate all In vivo binding sites and should be maintained to ensure binding site saturation. For In vivo blocking studies, a loading dose of 2.5 mg/mouse, followed by a weekly dose of 0.5 mg/mouse is recommended. The half-life following a 2.5 mg loading dose is approximately 5 days. However, if you fail to saturate the binding sites by injecting a low dose of 250 μg, for example, the half life is only 1.5 days.
WB
IP
ELISA
Each investigator should determine their own optimal working dilution for specific applications. See directions on lot specific datasheets, as information may periodically change.
Description
Specificity
Clone MAR1-5A3 recognizes an epitope on mouse IFNAR1.
Antigen Distribution
IFNAR1 and IFNAR2 are coexpressed on nearly all cells.
Background
IFNAR1 is a type I membrane protein, that in conjunction with IFNAR2, makes up the heterodimeric receptor that binds all type I IFNs, which includes IFN α and β. Binding and activation of the receptor stimulates Janus protein kinases, which leads to the phosphorylation of several other proteins, namely STAT1 and STAT2. IFNAR1 has also been shown to interact with PRMT1 and Tyrosine kinase 2. Type I IFNs are a family of cytokines that have been shown to promote anti-viral, anti-microbial, anti-tumor and autoimmune responses In vivo.
Antigen Details
References & Citations
1.) Beaver, Jacob T.
et al.
(2020)
Human Vaccines & Immunotherapeutics
16
:9, 2092-2108
Article Link
2.) Theofilopoulos, AN.
et al.
(2012)
J Immunol.
189
: 000–000.
Article Link
3.) Oldstone, Michael B. A.
et al.
(2017)
Proc Natl Acad Sci U S A.
114
(14): 3708–3713.
PubMed
4.) Schreiber, RD
et al.
(2015)
PLoS One.
10
(5):e0128636
PubMed
5.) Shin, Haina
et al.
(2018)
J Virol.
92
(7): e00038-18.
PubMed
6.) Crack, Peter J.
et al.
(2016)
eNeuro
10.1523/ENEURO.0128-15.2016
Article Link
7.) Sheehan, K. C. F.
et al.
(2006)
JICR
26
(11):804
8.) Dunn, G. P.
et al.
(2005)
Nat. Immunol.
6
(7):722
9.) Fenner, J. E.
et al.
(2006)
Nat. Immunol.
7
(1):33
10.) Biron, C. A.
et al.
(2007)
J Exp Med.
204
(10): 2383
11.) Sharma S.
et al.
(2020)
Human Vaccines & Immunotherapeutics
16
(9):2196-2203
Journal Link
12.) Cliffe, A.
et al.
(2021)
EMBO Reports
22
(9):e52547
Journal Link
Technical Protocols
Formats Available