Bulk quantities available. Contact us for pricing.
Data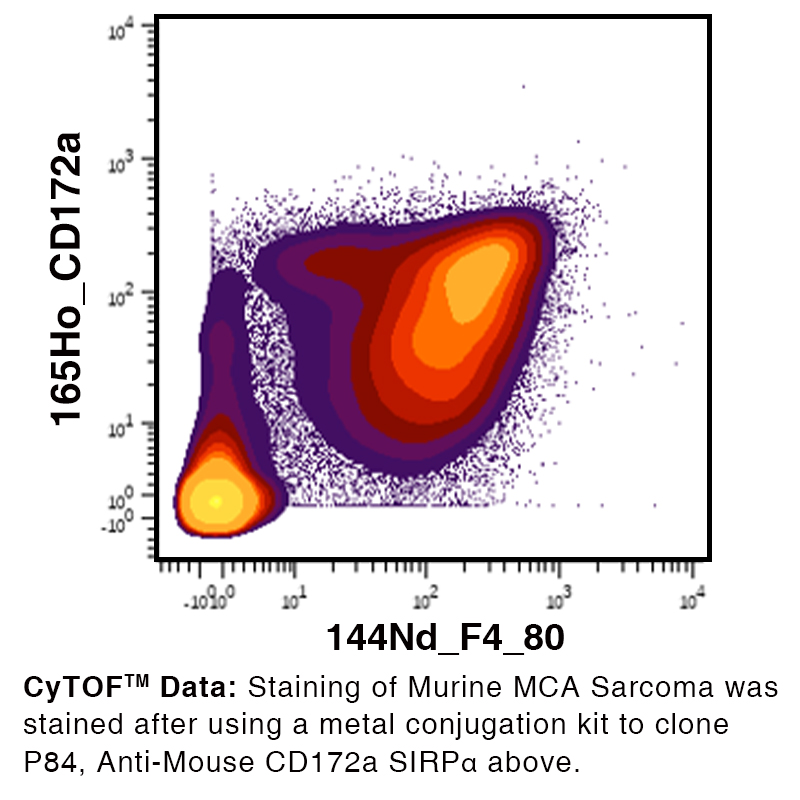 Antibody Details
Product Details
Immunogen
Mouse brain membrane protein
Endotoxin Level
< 1.0 EU/mg as determined by the LAL method
Purity
≥95% monomer by analytical SEC
Formulation
This monoclonal antibody is aseptically packaged and formulated in 0.01 M phosphate buffered saline (150 mM NaCl) PBS pH 7.2 - 7.4 with no carrier protein, potassium, calcium or preservatives added. Due to inherent biochemical properties of antibodies, certain products may be prone to precipitation over time. Precipitation may be removed by aseptic centrifugation and/or filtration.
Product Preparation
Functional grade preclinical antibodies are manufactured in an animal free facility using only In vitro protein free cell culture techniques and are purified by a multi-step process including the use of protein A or G to assure extremely low levels of endotoxins, leachable protein A or aggregates.
Storage and Handling
Functional grade preclinical antibodies may be stored sterile as received at 2-8°C for up to one month. For longer term storage, aseptically aliquot in working volumes without diluting and store at -80°C. Avoid Repeated Freeze Thaw Cycles.
Applications and Recommended Usage?
Quality Tested by Leinco
FC The suggested concentration for this P84 antibody for staining cells in flow cytometry is ≤ 1.0 μg per 106 cells in a volume of 100 μl. Titration of the reagent is recommended for optimal performance for each application.
CyTOF®
Other Applications Reported In Literature ?
IHC FF
IP
B
Each investigator should determine their own optimal working dilution for specific applications. See directions on lot specific datasheets, as information may periodically change.
Description
Specificity
Clone P84 recognizes an epitope on mouse CD172a.
Antigen Distribution
CD172a is expressed on monocytes, macrophages, dendritic cells, and neuronal cells.
Background
CD172a antibody, clone P84, recognizes CD172a, also known as single regulatory protein α (SIRPα) (signal regulatory protein alpha) or Src homology 2 domain-containing phosphatase substrate-1 (SHP-1), a type I transmembrane glycoprotein with three Ig-like extracellular domains and two cytoplasmic immunoreceptor tyrosine-based inhibition motifs (ITIMs)1. SIRPα is expressed predominantly in myeloid cells2 - including monocytes, macrophages, and dendritic cells (DCs) - and neuronal cells3. The extracellular ligand for SIRPα, CD47 (or integrin-associated protein [IAP])4, is expressed in most cell types5. In macrophages, ligation of SIRPα by CD47 inhibits macrophage phagocytosis of self cells6,7. SIRPα also negatively regulates DC-mediated T cell activation and DC maturation8-10. CD47 is also upregulated on tumor cells, inhibiting the phagocytosis of tumor cells by macrophages11. Therapeutics targeting the CD47-SIRPα interaction, including antibodies and fusion proteins, are currently under preclinical and clinical study for various malignancies as a monotherapy or in combination with other therapeutics12.
Antigen Details
Ligand/Receptor
CD47, SP-A, SP-D
Function
Negative regulation of several biological processes
References & Citations
1. Fujioka, Y., et al. (1996) Mol. Cell. Biol. 16:6887
2. Adams, S., et al. (1998) J. Immunol. 161:1853
3. Chuang W, et al. (1990) Dev Biol. 137:219–232
4. Seiffert, M., et al. (1999) Blood 94:3633
5. Oldenborg P. A. (2013) ISRN Hematol. 2013:614619
6. Oldenborg, P. A., et al. (2000) Science 288:2051
7. Oldenborg, P. A., et al. (2001) J. Exp. Med. 193:855
8. Brooke, G. P., et al. (1998) Eur. J. Immunol. 28:1
9. Seiffert, M., et al. (2001) Blood 97:2741
10. Latour, S., et al. (2001) J. Immunol. 167:2547
11. Jaiswal S, et al. (2009) Cell. 138(2):271-85
12. Jalil AR, et al. (2020) Antib Ther. 3(2):80-94
Technical Protocols
Related Products