Bulk quantities available. Contact us for pricing.
Data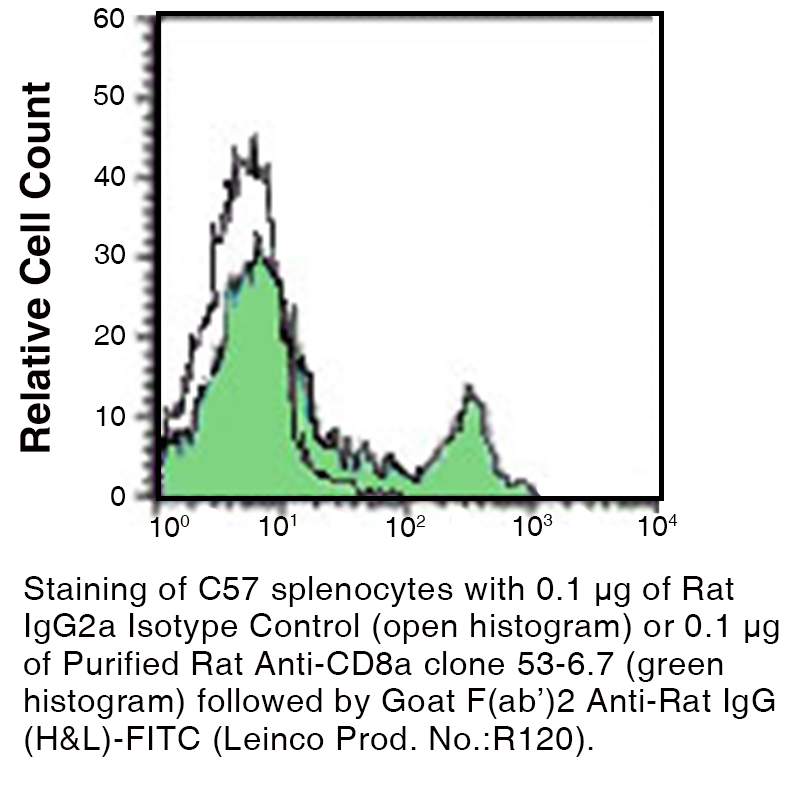 Antibody Details
Product Details
Immunogen
Mouse thymus or spleen
Endotoxin Level
< 1.0 EU/mg as determined by the LAL method
Purity
≥95% monomer by analytical SEC
Formulation
This monoclonal antibody is aseptically packaged and formulated in 0.01 M phosphate buffered saline (150 mM NaCl) PBS pH 7.2 - 7.4 with no carrier protein, potassium, calcium or preservatives added. Due to inherent biochemical properties of antibodies, certain products may be prone to precipitation over time. Precipitation may be removed by aseptic centrifugation and/or filtration.
Product Preparation
Functional grade preclinical antibodies are manufactured in an animal free facility using only In vitro protein free cell culture techniques and are purified by a multi-step process including the use of protein A or G to assure extremely low levels of endotoxins, leachable protein A or aggregates.
Storage and Handling
Functional grade preclinical antibodies may be stored sterile as received at 2-8°C for up to one month. For longer term storage, aseptically aliquot in working volumes without diluting and store at -80°C. Avoid Repeated Freeze Thaw Cycles.
Applications and Recommended Usage?
Quality Tested by Leinco
FC The suggested concentration for this 53-6.7 antibody for staining cells in flow cytometry is ≤ 0.25 μg per 106 cells in a volume of 100 μl. Titration of the reagent is recommended for optimal performance for each application.
WB The suggested concentration for this 53-6.7 antibody for use in western blotting is 1-10 μg/ml.
Other Applications Reported In Literature ?
CyTOF®
CODEX®
IHC (Frozen)
IHC (Paraffin) Clone 53-6.7 has been reported for use in zinc-fixed paraffin-embedded sections and is NOT recommended for immunohistochemistry of formalin-fixed paraffin sections.
IP
B
Depletion

Each investigator should determine their own optimal working dilution for specific applications. See directions on lot specific datasheets, as information may periodically change.
Description
Specificity
Clone 53-6.7 recognizes Lyt 2. Clone 53-6.7 competes with clone 5H10-1 for binding to thymocytes.
Antigen Distribution
Lyt 2 is present on the surface of most thymocytes and a subpopulation of mature T-lymphocytes which include most T suppressor/cytotoxic cells.
Background
CD8 is made up of disulfide-linked α and β chains that form the α(CD8a)/β(CD8b) heterodimer and α/α homodimer. CD8 is part of the Ig superfamily that expresses primarily as CD8a homodimers. CD8a is a 32-34 kD type I glycoprotein that can also form heterodimers with CD8b. CD8 is an antigen co-receptor on T cells that mediates efficient cell to cell interactions within the immune system. CD8 coupled with the T cell receptor on the T lymphocyte recognizes an antigen displayed by an antigen presenting cell (APC) in the context of class I MHC molecules. The CD8 co-receptor also plays a role in T cell signaling by interacting with Lck (lymphocyte-specific protein tyrosine kinase) which leads to the activation of transcription factors that affect the expression of certain genes.
Antigen Details
Ligand/Receptor
MHC class I molecule
Function
Co-receptor for TCR
References & Citations
1.) Sarmiento, M.
et al.
(1980)
Journal of Immunology
125(6)
:2665
2.) Gubin, M.
et al.
(2018)
Cell.
175
(4):1014–1030
Journal Link
3.) Sharma S.
et al.
(2020)
Human Vaccines & Immunotherapeutics
16
(9):2196-2203
Journal Link
Technical Protocols
Related Products