Anti-Mouse CD80 – Purified in vivo GOLD™ Functional Grade
Product No.: C2045
Product Type
Monoclonal Antibody
Alternate Names
B7-1, B71, Ly53, TSA1, Cd28l, Ly-53, MIC17
---
Data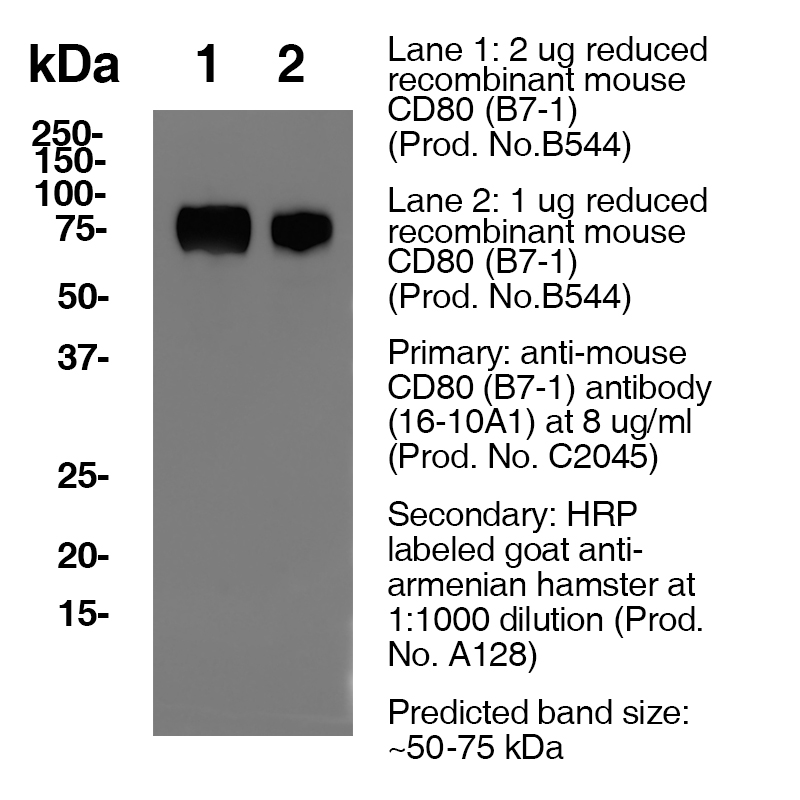 Antibody Details
Product Details
Immunogen
Purified Recombinant Mouse CD80 (>98%)
Endotoxin Level
< 1.0 EU/mg as determined by the LAL method
Purity
≥95% monomer by analytical SEC
Formulation
This monoclonal antibody is aseptically packaged and formulated in 0.01 M phosphate buffered saline (150 mM NaCl) PBS pH 7.2 - 7.4 with no carrier protein, potassium, calcium or preservatives added. Due to inherent biochemical properties of antibodies, certain products may be prone to precipitation over time. Precipitation may be removed by aseptic centrifugation and/or filtration.
Product Preparation
Functional grade preclinical antibodies are manufactured in an animal free facility using in vitro cell culture techniques and are purified by a multi-step process including the use of protein A or G to assure extremely low levels of endotoxins, leachable protein A or aggregates.
Storage and Handling
Functional grade preclinical antibodies may be stored sterile as received at 2-8°C for up to one month. For longer term storage, aseptically aliquot in working volumes without diluting and store at -80°C. Avoid Repeated Freeze Thaw Cycles.
Additional Applications Reported In Literature ?
CyTOF®
Each investigator should determine their own optimal working dilution for specific applications. See directions on lot specific datasheets, as information may periodically change.
Description
Specificity
Clone 16-10A1 recognizes an epitope on mouse CD80.
Antigen Distribution
CD80 is expressed on activated B cells, monocytes/macrophages, and dendritic cells.
Background
CD80 is a highly glycosylated 60 kD protein that is part of the Ig superfamily and is significantly involved in immune cell activation in response to pathogens. CD80 is closely related to, and works in tandem with CD86 (B7-2) to prime T- cells. CD80 binds to CTLA-4 to deliver an inhibitory signal to T cells. The ligation of CD28 on T cells with CD80 and CD86 on APCs co-stimulates T cells resulting in enhanced cell activation, proliferation, and cytokine production. It is thought that CD80 interacts with a ligand on Natural Killer cells, activating the Natural Killer cell-mediated cell death of the CD80 carrier. The activation of Natural Killer cell-mediated death via CD80 interactions has potential as a possible cancer immunotherapy through the induction of CD80 expression on tumor cells.
Antigen Details
Ligand/Receptor
CD28 (stimulatory), CD152(CTLA4) (inhibitory)
Function
T cell costimulation
Research Area
Neuroscience Cell Markers
References & Citations
1.) Gubin, M.
et al.
(2018)
Cell.
175
(4):1014–1030.e19
Journal Link
Technical Protocols
Related Products