Bulk quantities available. Contact us for pricing.
Data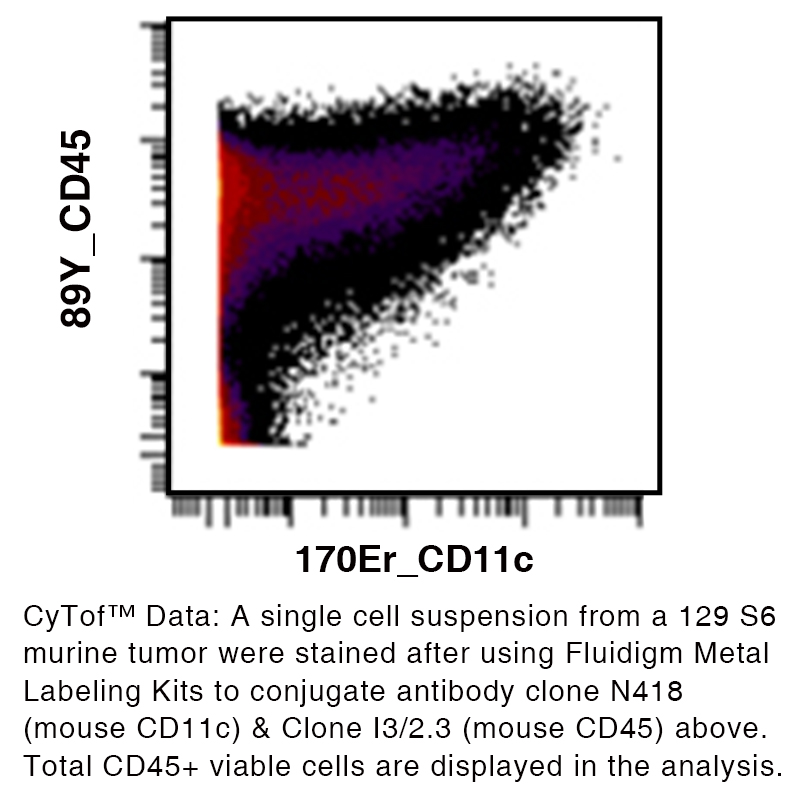 Antibody Details
Product Details
Immunogen
Mouse spleen dendritic cells
Endotoxin Level
< 1.0 EU/mg as determined by the LAL method
Purity
≥95% monomer by analytical SEC
Formulation
This monoclonal antibody is aseptically packaged and formulated in 0.01 M phosphate buffered saline (150 mM NaCl) PBS pH 7.2 - 7.4 with no carrier protein, potassium, calcium or preservatives added. Due to inherent biochemical properties of antibodies, certain products may be prone to precipitation over time. Precipitation may be removed by aseptic centrifugation and/or filtration.
Product Preparation
Functional grade preclinical antibodies are manufactured in an animal free facility using only In vitro protein free cell culture techniques and are purified by a multi-step process including the use of protein A or G to assure extremely low levels of endotoxins, leachable protein A or aggregates.
Storage and Handling
Functional grade preclinical antibodies may be stored sterile as received at 2-8°C for up to one month. For longer term storage, aseptically aliquot in working volumes without diluting and store at -80°C. Avoid Repeated Freeze Thaw Cycles.
Applications and Recommended Usage?
Quality Tested by Leinco
FC The suggested concentration for this N418 antibody for staining cells in flow cytometry is ≤ 1.0 μg per 106 cells in a volume of 100 μl. Titration of the reagent is recommended for optimal performance for each application.
WB The suggested concentration for this N418 antibody for use in western blotting is 1-10 μg/ml.
Other Applications Reported In Literature ?
CyTOF®
B

Additional Reported Applications For Relevant Conjugates ?

IF Microscopy
For specific conjugates of this clone, review literature for suggested application details.
Each investigator should determine their own optimal working dilution for specific applications. See directions on lot specific datasheets, as information may periodically change.
Description
Specificity
Clone N418 recognizes an epitope on mouse CD11C.
Antigen Distribution
CD11c is primarily expressed on dendritic cells, NK cells, a subset of intestinal intraepithelial lymphocytes (IEL), and some activated T cells.
Background
LFA-1α (CD11a) and CD18 are the Integrin alpha-L and beta-2 chains respectively that combine to form LFA-1, a glycoprotein and a member of the Integrin family. Integrin alpha-L/beta-2 is a receptor for ICAM1, ICAM2, ICAM3, ICAM4 and for F11R. LFA-1 participates in the immunological synapses between CD8+ T lymphocytes and antigen-presenting cells. The absence of LFA-1α or ß may induce LAD. The antigen contributes to natural killer cell cytotoxicity, and is involved in various immune phenomena such as leukocyte-endothelial cell interaction, cytotoxic T-cell mediated killing, and antibody dependent killing by granulocytes and monocytes. The CD11b/CD18 antigen is a heterodimeric surface glycoprotein on leukocytes and belongs to the ß2 integrin family. CD11b functions as a receptor for C3bi complement, clotting factor X, fibrinogen and ICAM-1. CD11c forms an α/ß heterodimeric glycoprotein (CD11c/CD18 complex) which belongs to the ß2 integrin family. The complex binds fibrinogen and reportedly serves as a receptor for iC3b and ICAM-1. During inflammatory responses, it mediates cell to cell interaction and is important in both monocyte adhesion and chemotaxis.
Antigen Details
Ligand/Receptor
iC3b, fibrinogen
Function
Cellular adhesion
Research Area
Neuroscience Cell Markers
References & Citations
1.) Gubin, M.
et al.
(2018)
Cell.
175
(4):1014–1030.e19
Journal Link
Technical Protocols
Related Products