Bulk quantities available. Contact us for pricing.
Data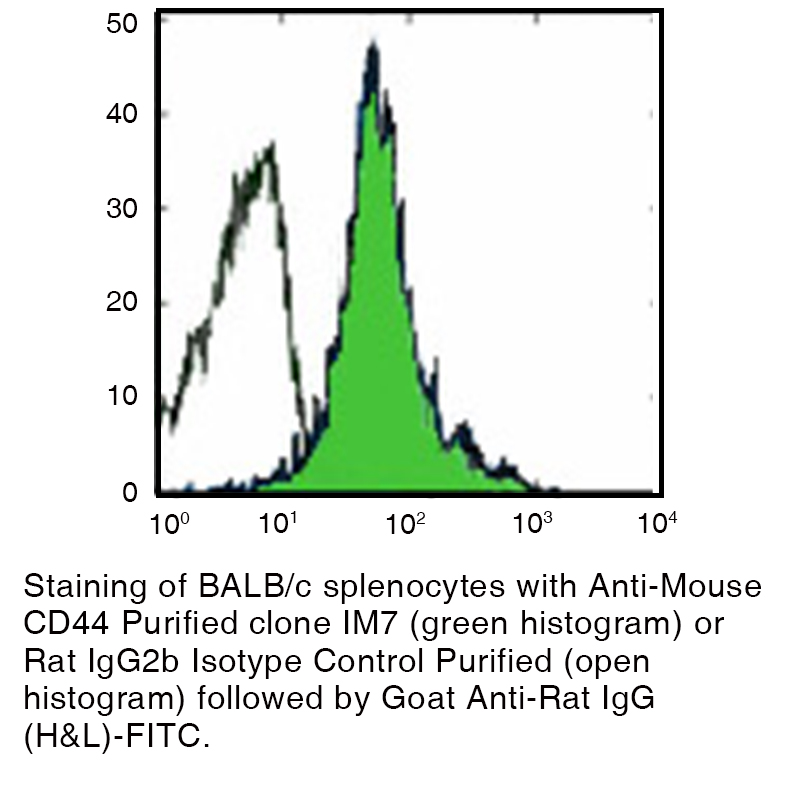 Antibody Details
Product Details
Immunogen
Dexamethasone-induced myeloid leukemia M1 cells
Endotoxin Level
< 1.0 EU/mg as determined by the LAL method
Purity
≥95% monomer by analytical SEC
Formulation
This monoclonal antibody is aseptically packaged and formulated in 0.01 M phosphate buffered saline (150 mM NaCl) PBS pH 7.2 - 7.4 with no carrier protein, potassium, calcium or preservatives added. Due to inherent biochemical properties of antibodies, certain products may be prone to precipitation over time. Precipitation may be removed by aseptic centrifugation and/or filtration.
Product Preparation
Functional grade preclinical antibodies are manufactured in an animal free facility using only In vitro protein free cell culture techniques and are purified by a multi-step process including the use of protein A or G to assure extremely low levels of endotoxins, leachable protein A or aggregates.
Storage and Handling
Functional grade preclinical antibodies may be stored sterile as received at 2-8°C for up to one month. For longer term storage, aseptically aliquot in working volumes without diluting and store at -80°C. Avoid Repeated Freeze Thaw Cycles.
Applications and Recommended Usage?
Quality Tested by Leinco
FC The suggested concentration for this IM7 antibody for staining cells in flow cytometry is ≤ 0.25 μg per 106 cells in a volume of 100 μl or 100μl of whole blood. Titration of the reagent is recommended for optimal performance for each application.
WB The suggested concentration for this P84 antibody for use in western blotting is 1-10 μg/ml.
Other Applications Reported In Literature ?
CyTOF®
ELISA Det
ICC
IP
IHC FF
IHC FFPE
Additional Reported Applications For Relevant Conjugates ?

CODEX®
Each investigator should determine their own optimal working dilution for specific applications. See directions on lot specific datasheets, as information may periodically change.
Description
Specificity
Clone IM7 recognizes an epitope common to alloantigens and all isoforms of CD44 that is located between amino acids 145 and 186.
Antigen Distribution
CD44 is expressed on all leukocytes, endothelial cells, hepatocytes, and mesenchymal cells in addition to B-cells, monocytes, macrophages and certain subsets of thymocytes and peripheral T-cells. Mice with the Ly-24.1 allotype have high densities of CD44+ T-cells.
Background
CD44 is an 80-95 kD glycoprotein that plays a role in various cellular functions including lymphocyte activation, recirculation and homing, hematopoiesis, and tumor metastasis. CD44 interacts with osteopontin, collagens, and matrix metalloproteinases (MMPs) and is a receptor for hyaluronic acid. Transcripts for this gene go through intricate alternative splicing that result in a variety of functionally distinct isoforms, including those which may be related to tumor metastasis. These splice variants of CD44 function as receptors under hemodynamic flow conditions that are significant to the development of cancer metastasis. Hence, it is thought that anti-CD44 tumor-specific mAbs may have therapeutic potential. This therapeutic potential of anti-CD44 mAbs is evident in some animal experiments demonstrating a reduction in malignant activities of various neoplasms when CD44 was targeted by a combination of mAbs, antisense oligonucleotides, and CD44-soluble proteins. It has been reported that high levels of CD44 on leukemic cells fuel leukemia production. Notably, various cancer studies show conflicting results pertaining to level of CD44 expression and its correlation with disease prognosis. Before anti-CD44 therapy can be applied to human cancers, it is essential to resolve this inconsistency.
Antigen Details
Ligand/Receptor
Hyaluronan, MIP-1β, fibronectin, collagen
Function
Leukocyte attachment and rolling on endothelial cells, stromal cells and ECM
References & Citations
1. Trowbridge, I. et al. (1982) Immunogenetics 15:299 2. Lesley, J. et al. (1988) Cell Immunol. 112:40
Technical Protocols
Related Products